Health care providers in the far west of New South Wales and residents of Wilcannia are seeking to raise awareness of COVID vaccinations amid adoption concerns.
Key points:
Mass vaccine awareness campaign, including door-to-door, planned in Wilcannia
City radio will do its part to inform residents
Local health district is concerned about rates in area, especially in indigenous communities
Indigenous health care provider Maari Ma said there are several areas where he would like to see the number of vaccinations improve.
Primary Health Care Services Executive Director Linda Lynott said Wilcannia was of particular concern.
"We have already had several meetings with the RFDS [Royal Flying Doctor Service], putting in place a whole series of strategies to disseminate information to the community, "she said.
Planned campaign
Far West local health district general manager Umit Agis said vaccination rates were too low in Broken Hill and indigenous communities.
"Broken Hill is an area where we really need to encourage more people to come forward, as well as our Indigenous community – our rates in this group are extremely low," he said.
"We are planning to have another mass awareness campaign to really dispel some of the myths surrounding vaccination."
Mr Agis said the district's indigenous health director, along with a number of indigenous health workers, would knock on Wilcannia's doors and engage people individually on vaccines.
"There is a level of reluctance in this community, and in the community at large as well, but particularly in this community," he said.
"Debunking some of the myths that still circulate in the community and which then translate into hesitation."
More awareness welcome
Wilcannia resident Brendon Adams said widespread coverage of rare AstraZeneca vaccine-related blood clotting events and the need for more vaccine information was contributing to the community's reluctance to immunize.
Mr Adams, who works for indigenous program provider REDIE, said he welcomed steps to increase awareness within the community.
"I am very happy that Maari Ma is knocking on the door," he said.
"The more visits there are, the more power it gives to the community, or our First Nations people, or indeed all of our people in Wilcannia to make a decision whether they want to or not."
"I don't think this is fully realized within the whole community – I think only the active and younger leaders have kind of gotten more involved lately.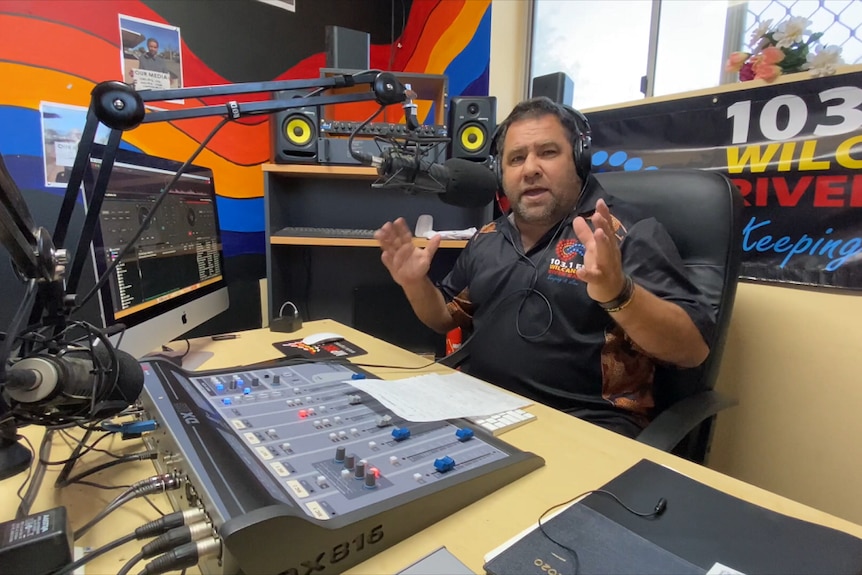 Mr Adams, who operates the town's radio station, said information about the vaccines would appear on the broadcasts.
He said Wilcannia River Radio had already questioned local police about the matter and the station would soon feature a doctor Maari Ma.
"As a person in the community, I had my own concerns and after talking to the medical profession, I made the decision to go [and get vaccinated]", he said.