Craving a culinary experience of a life-changing caliber? Book an omakase reservation. The intimate culinary tradition that comes from the counters of Japan and has been immortalized in Jiro dreams of sushi—translates to "I leave the choice up to you", nodding to the meal format of leaving all the decision-making to the chef (as in, they curate your tasting menu crafted from the finest seasonal ingredients) . Guests are seated at a counter with small occupancy, in the realm of eight to twelve chairs, and a superior dinner of cinematic proportions begins. Interest piqued? Continue on to 14 of our favorite places to partake in this much-revered form of dining, scattered across the United States.
Fairmont Miramar Hotel & Bungalows (Los Angeles, CA)
Photo: Courtesy of Soko at Fairmont Miramar Hotel & Bungalows
What better environment to enjoy fresh and delicate fish than by the sea? To soko, the eight-seat gem located in Los Angeles' historic Fairmont Miramar Hotel & Bungalows, guests can enjoy a menu by veteran sushi chef Masa Shimakawa at this beachfront icon. and is a nod to the restaurant's humble origins – it was built from a storage room in the hotel's main floor lobby. Chef Masa's menu takes a simple yet refined approach with an assortment of Nigiri featuring fresh selections like tuna, red snapper, selva prawn, yellowtail, omega blue kanpachi, among others. And while you're here, why not add the sake pairing for $50? You will not regret it. ($185 per person)
Gansevoort Meatpacking (New York, NY)
Photo: Courtesy of Saishin
Located on 850 square feet of the roof of the Gansevoort Meatpacking Hotel sits Saishin, an Omakase sushi experience led by Chef Frankie-Yong Doon. The restaurant is centered around a custom-created quartz omakase bar that seats 16 (with an additional 50 seats at tables lining the perimeter of the roof with views of the New York skyline). The name Saishin translates to "something new" – "My goal is to create a new and unique meal for every guest I meet at the omakase bar – to ask them to slow down and enjoy the simple pleasures in life", explains Chef Frankie. Saishin also does a la carte meals and some inventive dishes include Hikarimono Saba with green apple and goma, and corn husk smoked Tasmanian sea trout topped with smoked onion. (12 course omakase $135, 15 course omakase $175)
The Ritz-Carlton Residences, Waikiki Beach (Oahu, HI)
Photo: Courtesy of Ritz-Carlton Residences, Waikiki Beach
A reservation at Sushi Sho (something that books up months in advance) is so coveted that guests have been known to book their stay at the resort around when they can sit down at the table. What's so special about it? This on-site restaurant offers a 10-seat dining experience led by Chef Keiji Nakazawa, known for his inventive style of Edomae sushi. At The Ritz-Carlton Residences, Waikiki Beach, his omakase-style meals focus on pairing different types of seasoned rice with more than 40 different kinds of fresh fish. Each dish is inspired by fresh local ingredients and pairs well with the restaurant's impressive sake selection. ($300 per person)
At the heart of SoHo and the team behind Takeshi Sushi and New York Sushi Ko comes Kintsugi at 28 Grand Street. This omakase is headed by executive chef Victor Chen and the restaurant's name is inspired by the Japanese art of fixing what's been broken. Based on this notion, the tableware on which the meals of the guests are presented is in collaboration with EM ceramic and Spark Bird Studio who created a line exclusively for this Edomae-style restaurant. Kintsugi offers three levels of premium omakase as well as unique tasting and rare bottlings of whiskey and sake. (From $95 per person)
Photo: Courtesy of Mujo
Among the busiest restaurant openings in Atlanta this year, Mujo is the only omakase in town. Their sommelier Irina Zolotukhina offers several selections of women toji (brewmasters) and the omakase-only tasting menu is led by Executive Chef J. Trent Harris. This menu changes daily, using seasonal ingredients and fish directly imported from Japan. Mujo's modern Edomae style is a selection of seasonal small plates and nigiri and guests can also choose to make drink pairings with their dinner. ($225 per person)
Photo: Durston Saylor
A serene hamlet located on the north shore of Long Island, Oyster Bay is home to this 10-seat chef's tasting counter by Jesse Schenker. It is set inside a restored circa 1920s cobbled cottage and the first floor has been converted into a show kitchen whose aesthetic speaks to Scandinavian design. Twice-appointed chef James Beard (formerly of recipe) offers an ever-changing menu, cooked in the center of the room in the Blue Bonnet kitchen suite with a Japanese charcoal grill. Guests get a front-row seat to the action, savoring 10-12 courses of raw fish, shellfish, and cooked fish (premium farm-raised meats are also served). A local cabinetmaker was commissioned for Four to create unique and exotic wood serving pieces. can be bought for your omakase at home. ($245 per person)
Photo: Matthew Williams
In Philadelphia's trendy Fishtown neighborhood, a new omakase concept located at the corner of Lee and Master streets. Here, chef Hiroki Fujiyama (formerly of Philly's Morimoto where he trained under world-renowned chef Masaharu Morimoto for more than 10 years) oversees the seasonal omakase menu inspired by his hometown of Kyoto. Grab a chair at the 12-seat counter and expect mouth-watering nigiri that should be enjoyed with the six-course sake pairing. The restaurant is tucked away at the back of the Wm. Mulherin's Sons building with a separate, sleek entrance and inside this dimly lit space, diners can enjoy the sleek, minimalist design (like the 10-foot-wide doorway locally made entirely by hand using the ancient Japanese technique of Yakisugi). ($155 per person)
Aman New York (New York, NY)
Photos: Courtesy of Aman New York
Perhaps New York's busiest hotel opening of 2022, Aman New York brings with it Nama, a restaurant that translates to "raw" in Japanese and embraces centuries-old preparation techniques characteristic of the finesse of Japanese cuisine. Nama is on the 14th floor of the property and has an omakase bar identifiable by its elegant Hinoki wooden counter. Here, diners enjoy 15-18 dishes prepared on-site by Chef Takuma under a Frank Lloyd Wright-inspired ceiling and lighting pendants that cast an ambient hue onto the dishes.
Austin, Dallas, Houston, Denver, Miami and Aspen
Photo: Courtesy of Uchi Austin
James Beard Award-winning chef Tyson Cole has long been a keen student of Japanese tradition, as evidenced by his restaurant Uchi (Japanese for 'house'). It opened in Austin, Texas in 2003, but has expanded to Dallas, Houston, Denver and Miami and will even have an epicurean takeover in Hotel Jerome in Aspen, Colorado from December 14 to 17. The experience is accessible and guests can choose between Chef's Tasting, Signature Tasting, and Vegetarian Tasting to suit each guest's preferences and tastes. Highly Recommended: Engage sake sommelier Peyton Walson to provide pairing recommendations for each dish.
Photo: Melissa Hom
A culinary figure arguably synonymous with Edomae sushi, chef Kunihide "Nakaji" Nakajima brings his talents and 30 years of experience to his eponymous restaurant Nakaji, located on the Bowery in Manhattan's Chinatown. He began his training in Tokyo at age 17 in his father's restaurant and worked his way up to eventually work at establishments such as Uogashi in the East Village and Sushi Inoue in Harlem, which under his leadership maintained its Michelin star in 2019. He launched his restaurant in 2020 and here customers enjoy a 14-course omakase sushi that he prepares and serves by hand after considering their individual tastes and moods. ($275 per person)
Photo: Eric Vitale
Tucked away in a secluded spot inside Grand Central, below One Vanderbilt Avenue in Manhattan, is a new omakase restaurant from Michelin-starred chef Daniel Boulud and former Masa chef George Ruan. The concept of the experience nods to sushi destinations in Tokyo's train concourses, with design by Simplicity Design founder Shinichiro Ogata. There are only 18 seats available each night (with a 10-seat counter and a private room for eight) and the intimate menu relies on fresh seasonal ingredients paired with premium sake and good wine. The team also opened Joji Boxwhich is a separate take-out sushi counter adjacent to the restaurant where you can take out and deliver. ($375 per person)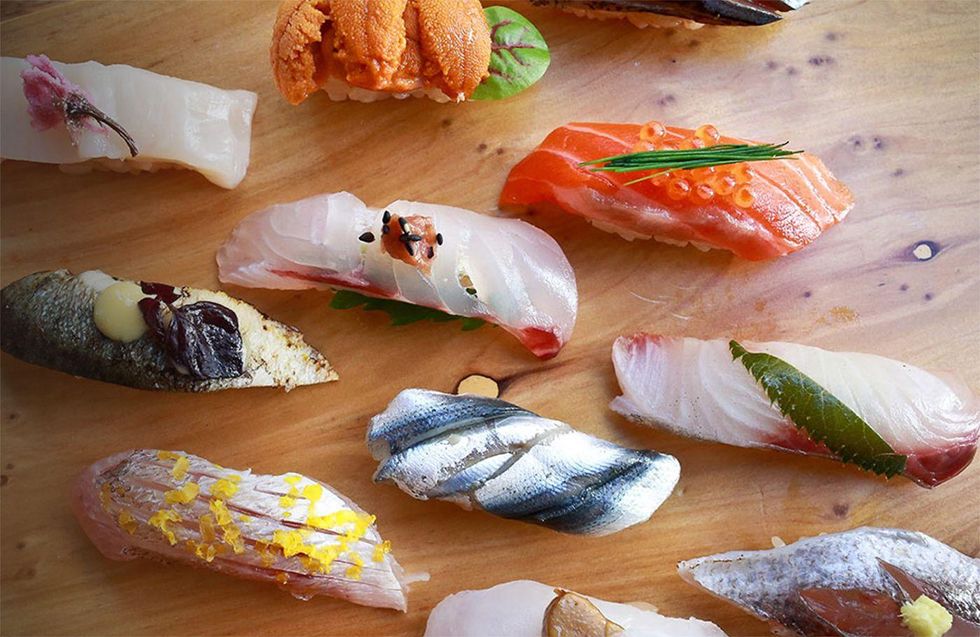 Photo: Courtesy of Akiko
Devoted omakase fans living in San Francisco may already be familiar with the famous from Akiko, which sources its supplies from local suppliers and Tokyo's famous Toyosu fish market. In December, the restaurant inaugurates its new flagship space designed by AvroKO at Avery Lane (an outdoor pocket park by California related in the East Cut neighborhood of San Francisco). The concept will be led by chef-owner Ray Lee and will center around a spectacular 24-seat chef's stage. The menu will feature vibrant nigiri and sashimi selections alongside seasonal dishes from the kitchen. They will also launch a full bar program with technique-focused cocktails, as well as international wines, Japanese beers and, of course, an assortment of reserve sakes.
Montecito, Encino, Seattle, Miami, Cedar Creek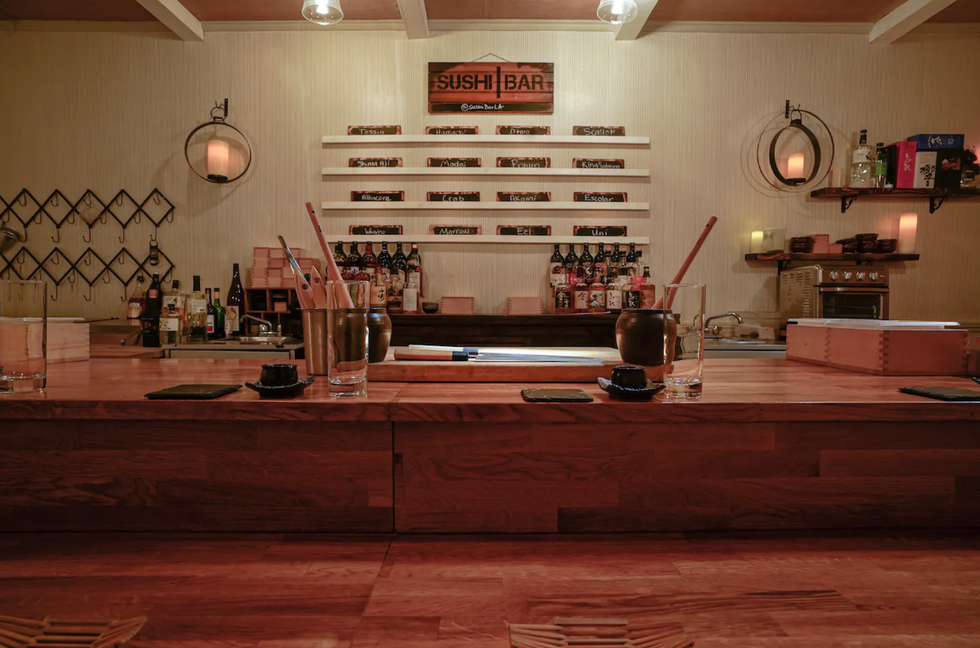 Photo: Courtesy of Sushi By Scratch
If you're looking for a micro and intimate dining environment, book a reservation at one of Scratch's omakase concepts scattered across the United States. Chefs and owners Phillip Franklin Lee and Margarita Kallas-Lee have perfected this sushi experience, earning them a Michelin star at their establishment in Montecito, California. The destinations only offer 10 seats and are frequented by celebrities (Meghan Markle and Prince Harry have even dined there). Enjoy their unique omakase menus with drink pairings and rest assured that your stay here will be deeply personalized.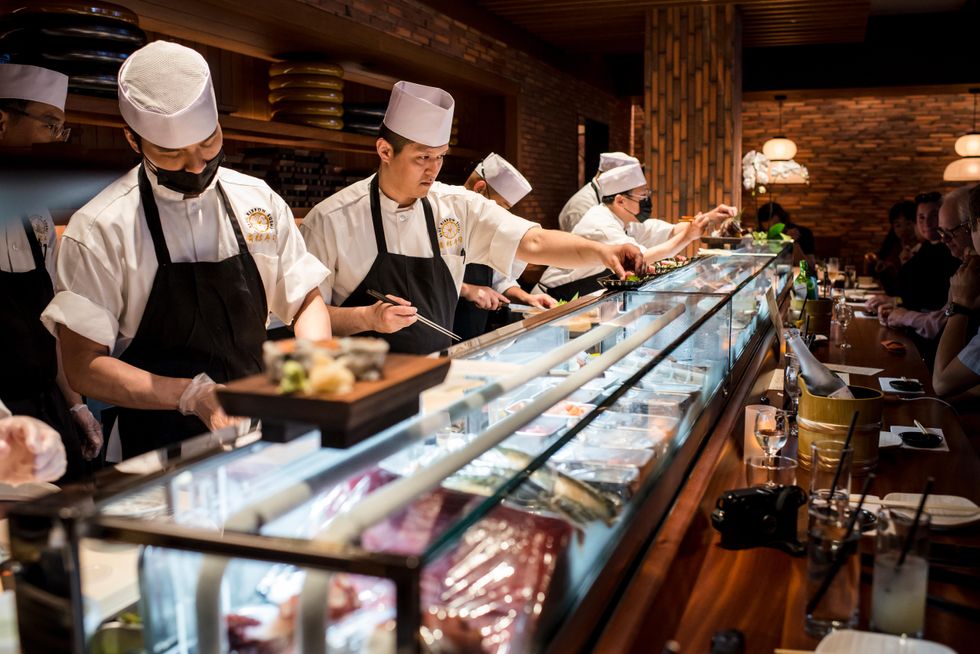 Photo: Steve Hill
Blue Ribbon Sushi has been around since the 90s, but only this year the famous restaurant group opened Kenmore Square Sushi Blue Ribbon in Boston, located on the doorstep of the Commonwealth Hotel. It's the creation of Master Sushi Chef Toshi Ueki and the menu offers a range of traditional Japanese dishes including nigiri, sashimi and maki made in house by the chef, all prepared with a selection of fresh fish imported daily from the sea. of Japan, the Pacific Ocean and local waters of New England. The restaurant also offers an omakase menu made from top quality fish selected by the Chef. (From $150 per person)